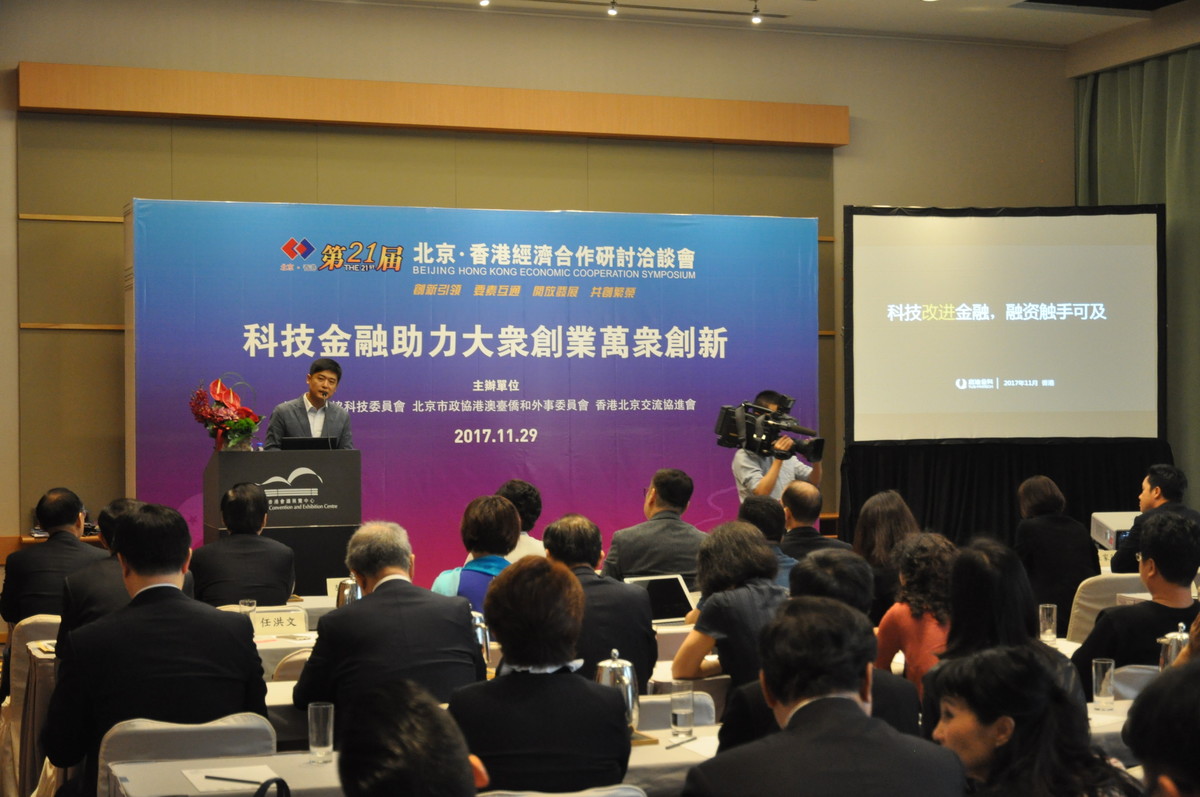 On November 29th, the 21st Beijing-Hong Kong Talks was held in Hong Kong Convention and Exhibition Center. As a vertical financial S & T company, Tus-Fintech (Beijing) Co., Ltd. was invited to attend the thematic seminar "S & T finance propels mass innovation" on S & T finance, which was held during the same period. At the meeting, Mr. Ren Hongwen, CEO of Tus-Fintech, as a representative of innovative companies in the field of S & T finance, delivered a speech entitled "Science and Technology to Improve Finance, Financing at Your Fingertips" based on Tus-Fintech's implementation of successful financing of 10,000 enterprises.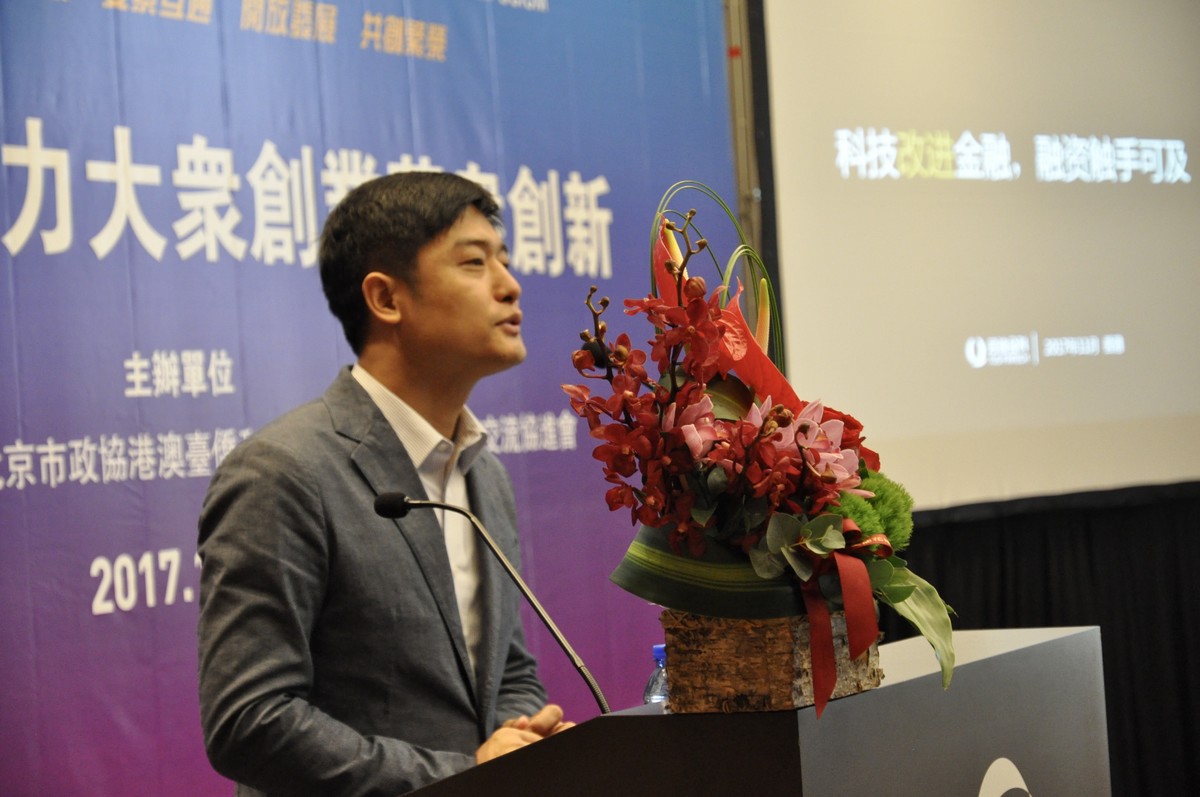 This seminar brought together nearly 100 personnel, including Beijing CPPCC Committee members, experts from the Mainland and Hong Kong, and heads of relevant innovative companies. They gave keynote speeches, impromptu speeches and exchange seminars centering on promoting S & T financial innovation, encouraging business model innovation, formulating and implementing regulatory policies, and creating a relaxed environment. Combining with the financial innovation practice of Tus-Fintech, Ren Hongwen pointed out at the conference that the essence of finance couldn't be changed, and technology only changed the financial form in innovation. In other words, finance must be developed based on balanced risk and credit, it couldn't amplify risk nor overdraw credit.
Ren Hongwen, CEO of Tus-Fintech, emphasized that different technologies only formed different tools such as cash, bills, online banking, and payment accounts, generating different efficiency such as real-time arrival, and benefiting different service groups of general finance. The development of technology has resulted in ubiquitous finance, and users have become less aware of the existence of finance. As a vertical financial technology company that utilized the Internet and big data to provide comprehensive services, including information advisory, public opinion monitoring, corporate data, and online financial statement analysis, for technology companies, financial institutions, and financial practitioners, Tus-Fintech was dedicated to making financing easier through the adoption of technology. With the "win-win" thinking of technology, Tus-Fintech enables companies that are supposed to get financing to solve the problems of difficulty and high cost of financing.
In the environment where traditional mortgages and guarantees no longer satisfy the financing needs of in the new context, Tus-Fintech as the landing and extension of the "S & T Finance" section of the "Trinity" strategy of Tus-Holdings Co., Ltd., since its inception, Tus-Fintech has been dedicated to provide service to small, medium and micro enterprises, dual-creation companies, and various financial institutions, to break the false proposition that "business and financial institutions are in opposition to each other" in corporate financing by providing S & T financial services, to effectively lower the threshold for industry-and-finance combination, improving the efficiency of industry-and-finance integration, and optimize the quality of industry-and-finance combination, and achieve multi-win-win situation and long-term development.
During the Beijing-Hong Kong Talks, Ren Hongwen said that, Tus-Fintech had achieved symmetry of information through big data technology, allowing borrowers to find suitable institutions and let lenders find suitable customers; through technological innovation, it met the needs of risk control models of different financing clients and formed personalized risk models to transform batch operations into personalized operations, such as orders, accounts receivable, market share, team capacity, cash flow control, upstream-and-downstream compliance capabilities, etc.; to improve efficiency through online processing, including identity authentication, information gathering, program communication and lending conditions to implement online operations, change face-to-face procedures of traditional finance; The main-body intervention like online connecting to financing customers, financial institutions, big data companies, payment companies, and customer's industry trading platforms, could make financing more specialized.
Mr. Ren Hongwen disclosed at a special symposium that loan assistant technology platform of Tus-Fintech covers various scientific and financial instruments such as due diligence, financial analysis, industrial analysis, public opinion monitoring, and so on. It has cumulatively raised RMB 3 billion over the past year. At both ends of financial services, Tus-Fintech has attracted nearly 100 financial institutions such as China Development Bank, Industrial and Commercial Bank of China, Agricultural Bank of China, China Merchants Bank, Minsheng Bank, Hengfeng Bank, Langfang Bank, Bohai Bank, Ningbo Bank, Huajin Securities, and Huarong Trust, Du Financial, Baofeng Finance, and Fengjr.com. Tus-Fintech has already served more than 10,000 enterprises and accumulated 200 million pieces of financial data covering business, credit, patent, ranking, and rating. These achievements are not only based on the analysis of problems of "difficulties, slowness, and expensiveness in financing" of the enterprise, but also provides strong support for the rapid development of the enterprise. It also helps financial institutions to promote quality control and improve lending efficiency while introducing high-quality assets for financial institutions through big data.
As to the interconnection in technology and finance between Beijing and Hong Kong, policy environment of Beijing's technological innovation and development, and the exchange platform of S & T finance between Beijing and Hong Kong, Ren Hongwen also stated at the seminar that Tus-Fintech was the industry's "Didi taxi" that can help financial institutions find reliable customers and financing companies to quickly get funds, and make financing as easy as online shopping. This year was the 20th anniversary of Hong Kong's return to the motherland. The cooperation between Beijing and Hong Kong was facing new major historical opportunities. In the future, Tus-Fintech hopes that Hong Kong-funded financial institutions and Hong Kong-funded enterprises settled on its platform to enjoy the mainland's capital services and satisfy the mainland's customer's borrowing requirements.
The 21st Beijing-Hong Kong Talks was an important economic and trade event held outside Beijing in the critical period of the victory of the 19th National Congress, and China's entry into a stage of establishing a well-to-do society, and a new era of socialism with Chinese characteristics. Beijing Municipal Committee of the CPPCC, with the strong support of the "Hong Kong-Beijing Association," together with Hong Kong-Macau-Taiwan and Overseas Chinese and Foreign Affairs Committee of Beijing Municipal Committee of the CPPCC to hold Thematic Seminar "S & T finance propels mass innovation" on S & T finance of the 21st Beijing-Hong Kong Talks to provide services for the transformation and industrialization of the results of major original innovation technologies, speed up the construction of the National Innovation Center for S & T finance, and provide a platform for Hong Kong enterprises to invest in Beijing to start businesses. Ba Shusong, Deputy Director of the Financial Research Institute of the State Council Development Research Center, Wang Rufang, member of the Beijing CPPCC Committee, and Deputy Director of Zhongguancun Technology Park Management Committee, Ren Hongwen, CEO of Tus-Fintech (Beijing) Co., Ltd., Qin Jun, member of the Beijing Municipal Committee of the CPPCC, and Chairman of Jun Zi Capital Investment Management Co., Ltd., and Huang Xianmin, Director of Investment of HKSTP, focusing on the practice and trends of S & T finance, respectively gave keynote speech.
Formerly known as Tus Financial Information Services (Beijing) Co., Ltd., Tus-Fintech has always been committed to financial technology business, to improve the efficiency of financial services and reduce the cost of financial services by technology. In July 2017, the company strategically introduced two shareholders of Geely Automobile and Beijing Weying Technology Co., Ltd. Relying on the scientific and technological strength of Tsinghua University, the market resources of Tus-Holdings Co., Ltd., Geely Automobile, and Beijing Weying Technology Co., Ltd., the company has obtained advantages in the fields of big data aggregation analysis and business intelligence applications. At present, the company provides integrated services like information consulting, biometrics, public opinion monitoring, corporate data, financial SASS cloud, and personal and corporate big data ratings. Mr. Ren Hongwen, CEO of Tus-Fintech, graduated from Changchun University of Science and Technology, and has been committed to the business development of financial technology during his work. He had 15-year working experience in the head office of Industrial and Commercial Bank of China Limited and China Minsheng Bank, and 5-year working experience in the Internet company. He successively served as the person in charge of the SME Business Department of the Minsheng Bank Tianjin Branch, General Manager of Minsheng Bank Shenyang Branch and General Manager of the Bills Department of Minsheng Bank Shenyang Branch, CEO of Minsheng YIDAI and CEO of Tus-Fintech.